BODICES
LONG BODICE DRESSES

The Pirate Bodice Dress

Made from the softest, natural, breathable leather. These pants fit like a second skin to show off your best features.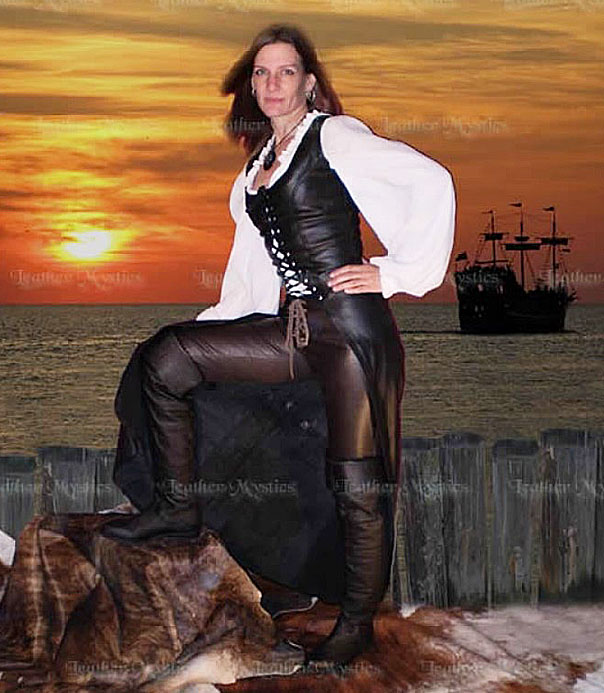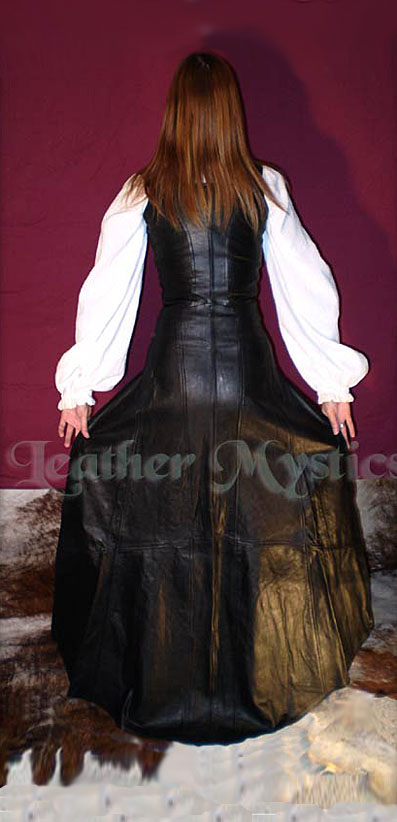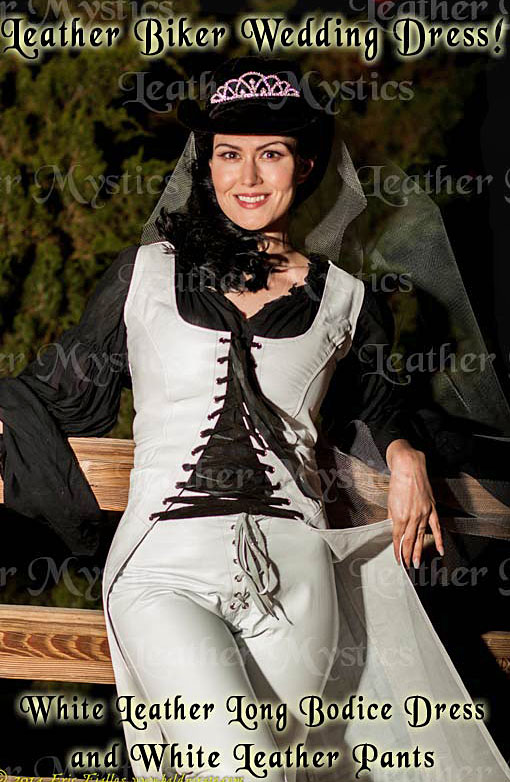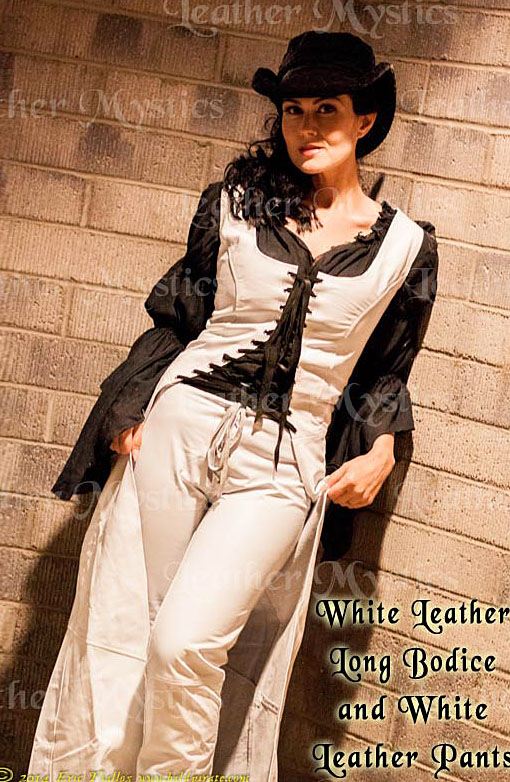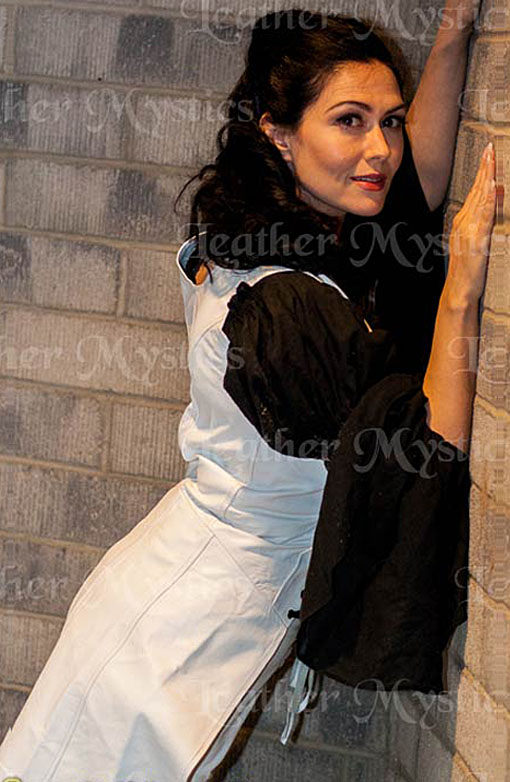 Photos by
Bald Pirate Photography
Made of all white leather, our Bodice Dress is great for weddings with flair. Renaissance Wedding Dress, Pirate Weddings Dress, Biker Bridal Dress (get alternate colors for the bridesmaids). You can accessorize this for MANY different looks or themes.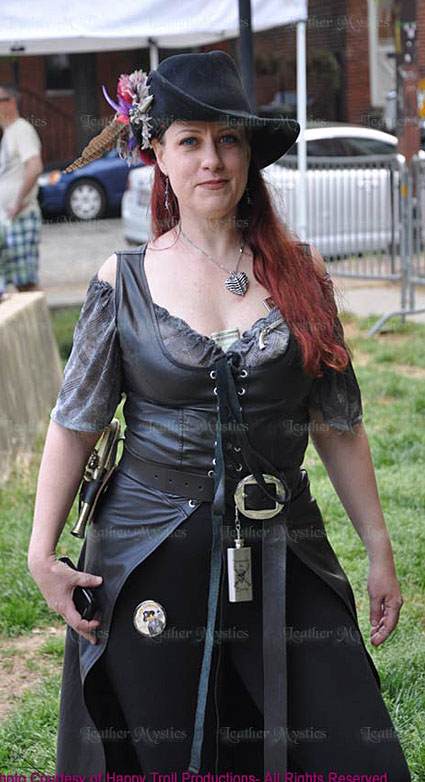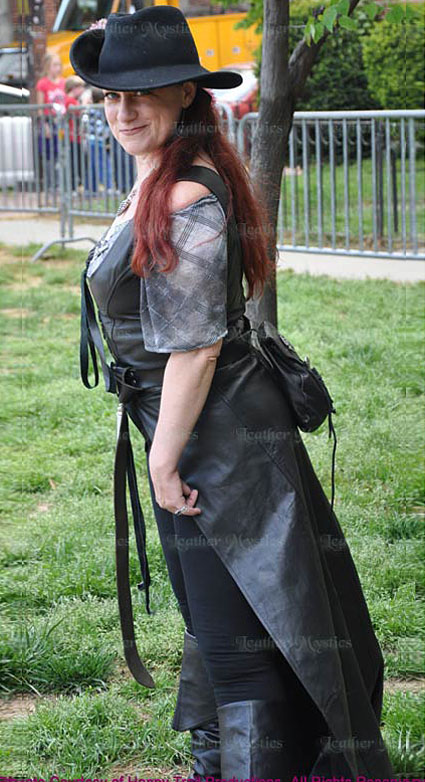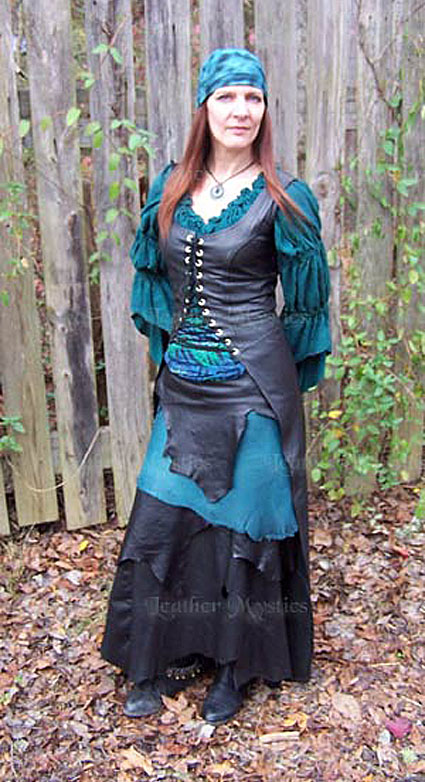 Photos by Happy Trails Productions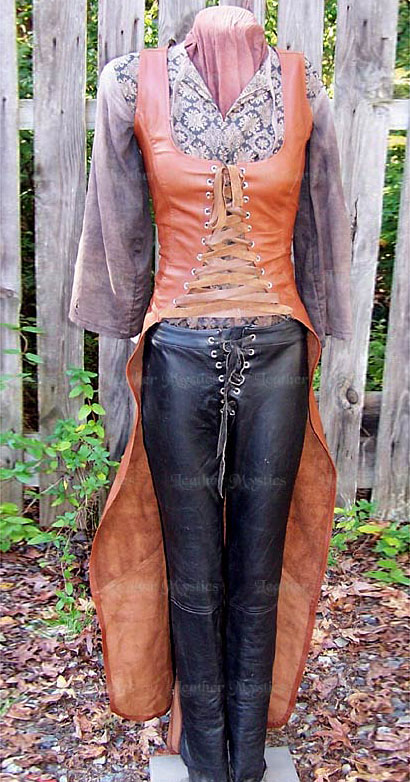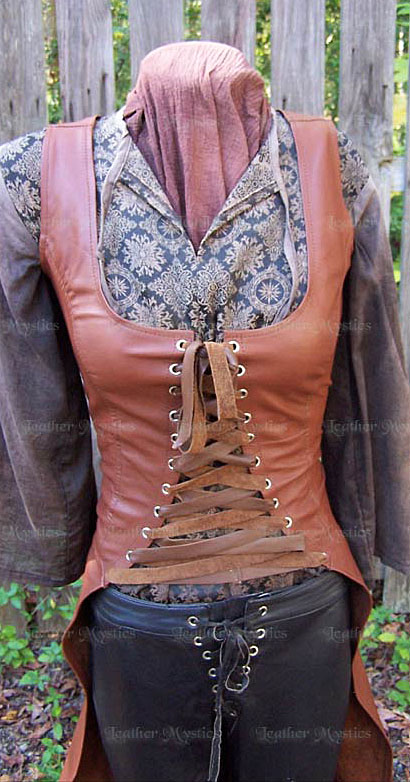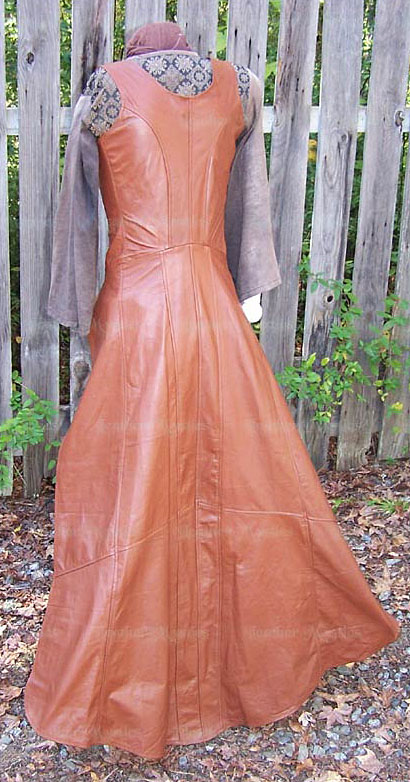 Many Colors Available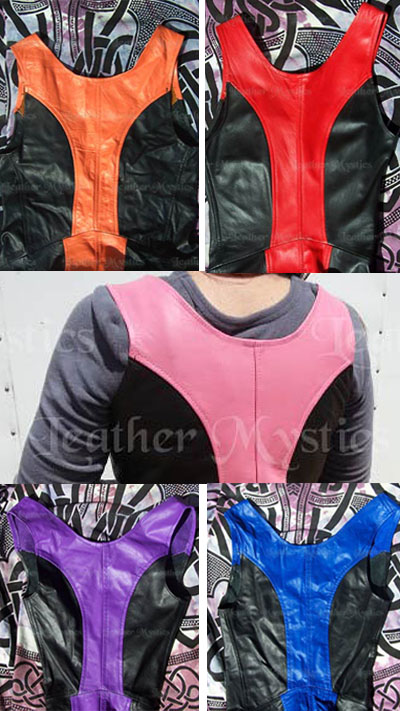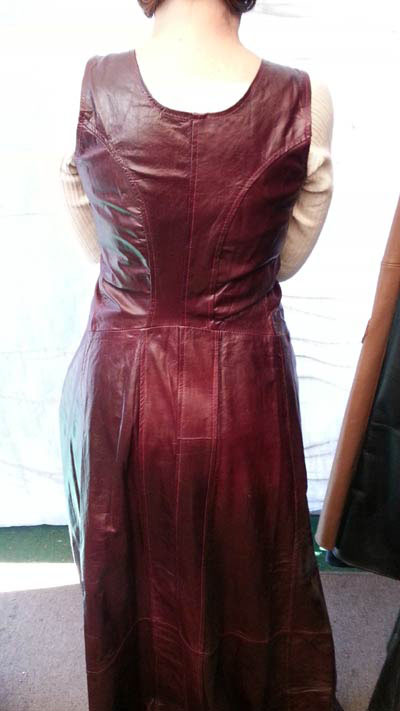 What's a Ren-Faire without DRAMA??
....And what could be more dramatic than this stunning floor-length bodice.
This all-leather long bodice will strike fear and lust in any you pass! Hypnotically elegant yet daringly gothic, you can wear this bodice with just about any combination of outfits for just about ANY occasion!
By combining the elegance of an Irish Dress design with the lusciously erotic form fit of a bodice, we've found a most unique look.
From renaissance faires, leather biker weddings, medieval events, and pirate rendezvous to gothic clubs, fetish balls, and even just a casual night out to make the neighbors wonder...
This long bodice is sized similar to our standard short bodice and can be worn with chemise and skirt or jeans or leather hot pants, stilettos, and thigh-highs (yes, considering that picture, I think I'll be working on the hot pants pattern...SOON.)
Faire-hearted wenches and faint-hearted maidens beware - wearing THIS Long Pirate Bodice may just get you pillaged and plundered!
~ Sizing measurements are for the ribcage just below the bustline ~
TRADITIONAL LEATHER BODICES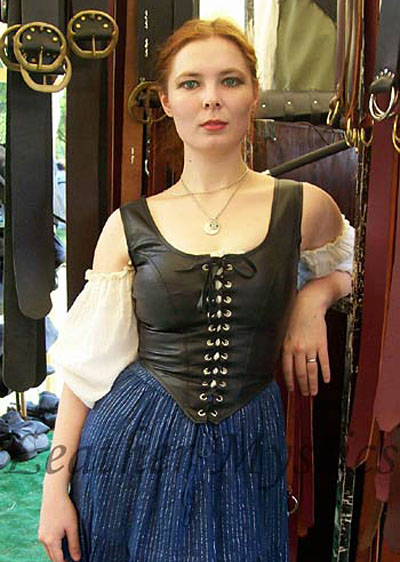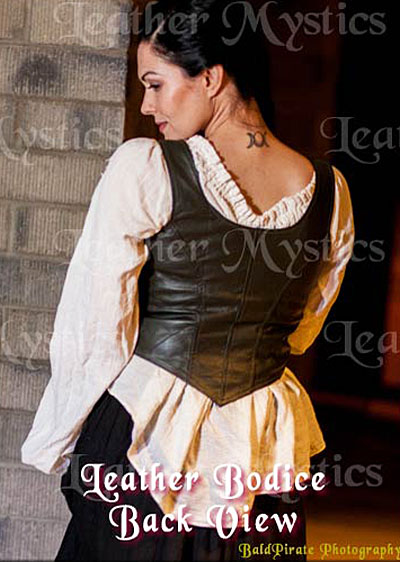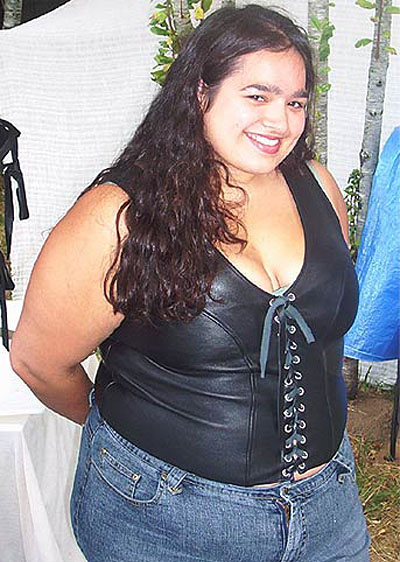 TRADITIONAL LEATHER BODICE
Traditional leather bodice style for renaissance faires, biker babes, steampunk styles, goth, club wear and more.
Available in almost sizes from Extra-small to 3X.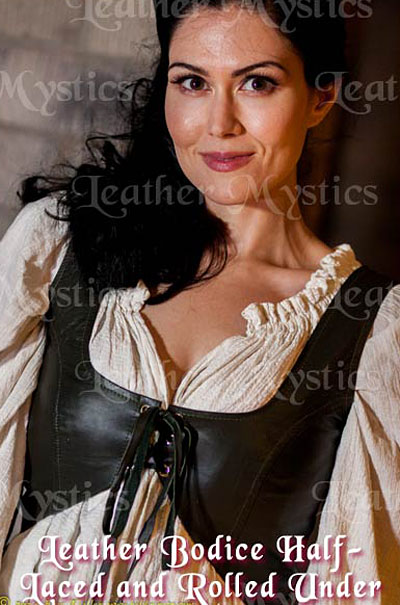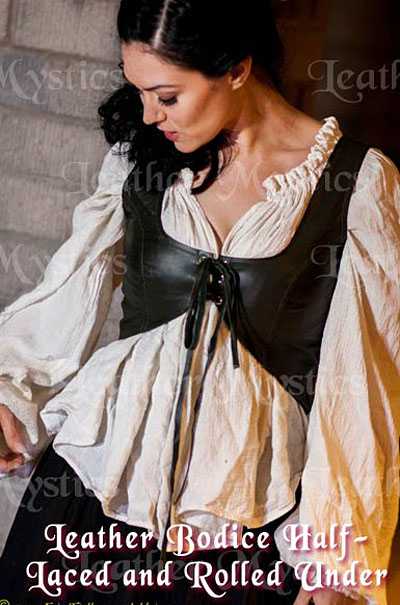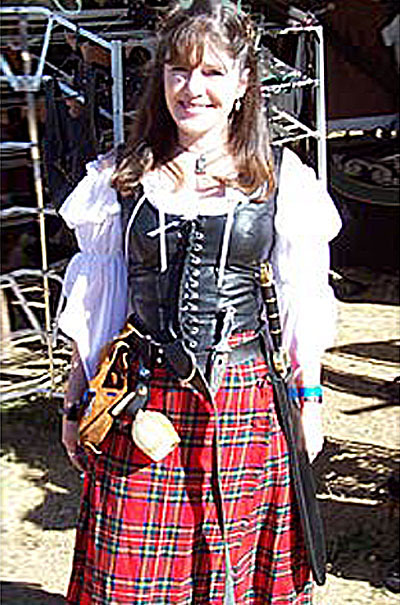 You can even lace only the top half, fold the bottom under for a completely different look altogether. Goes excellent with a simple broom skirt, mini-skirt, leather pants, kilt, or even sassy schoolgirl uniform.
Now available in Black, Dark Brown, and Two-Color Tobacco Brown/Dark Brown.
~ Sizing measurements are for the ribcage just below the bustline ~
Now available in larger men's and women's PLUS sizes.

Fit's Men's to a 44 waist.

The basic difference between the men's cut and women's is the women's cut has a more tapered leg. We have many women that buy the men's size because they like the looser fit and vice versa.

Yes - they are just as cool and comfortable as any other pair of pants you might wear. In fact, most find them even MORE comfortable than cotton pants. The natural leather breathes so you can stay cool even at those warmer summer events.

No other leather pants get you attention like ours do. Made from the softest leather, these pants fit like a second skin to show off your best features.

Front fly sports inner overlapping flap with re-enforcing grommets and strong wide soft leather lacing.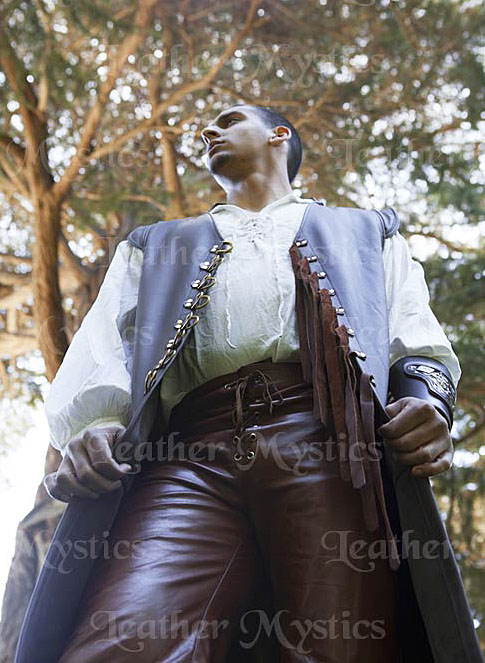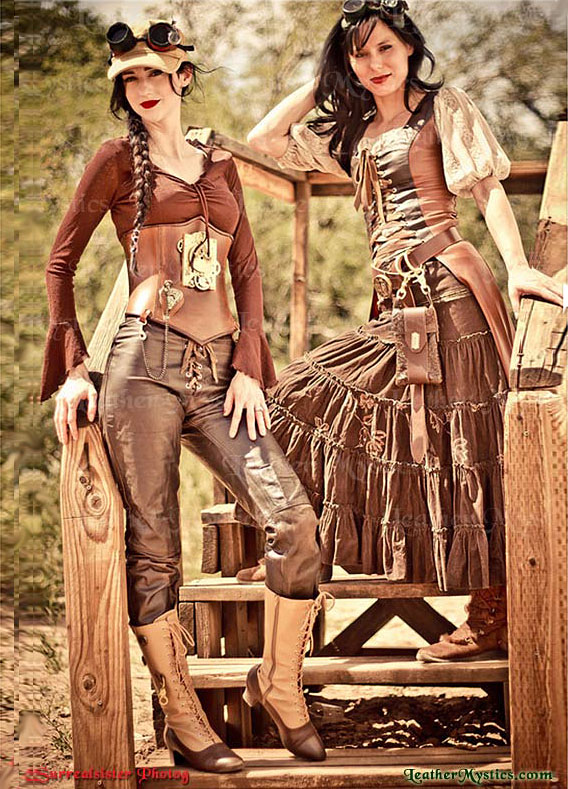 LADIES
Fine hand-crafted all leather pants for the spicy vixen, same quality, same strong, butter-soft, 1.5 oz. garment leather.

Leather laced front fly enclosure with eyelet reinforcements.

Women's up to size 18!

Now available in larger wommen's and men's PLUS sizes!

Sure to get you extra attention everywhere. You've seen major superstars like Shakira, Beyonce, Christina Aguilera, Jessica Alba, Bon Jovi, Jessica Simpson, and SO many other celebrities sporting similar styles of laced-up leather pants. Now you can get them for a FRACTION of what THEY paid!

CLEANING OUR LEATHER PANTS
Our best cleaning advice we give for these pants:
Clean only when needed or every 2-3 wearings.
Hand-wash in a sink or tub of warm water and small amount of soap (a squirt of two of liquid hand soap works best). Agitate lightly and rinse with clean warm water. Gently wring, blot with towel, and hang-dry.

*Note - ALL new leathers contain residual unset dyes which will lightly 'bleed' out in the first few washings and discolor the water. This is normal.

DARK CHOCOLATE BROWN

Dark Chocolate Brown is Available Upon Request

E-MAIL US BEFORE placing an order for brown to check our availability.

NOTE: You will be able to offer any specifics in the "comments" window of the ordering process when you check out.

We no longer offer custom length or inseam, all pants are shipped with a 36" inseam. The leather is soft enough that they can easily be hemmed on an average home machine or most tailers offer hemming for a nominal fee.

Also specify color desired (if other than black). Custom colors available (extra charges and order time will apply - email us for a quote).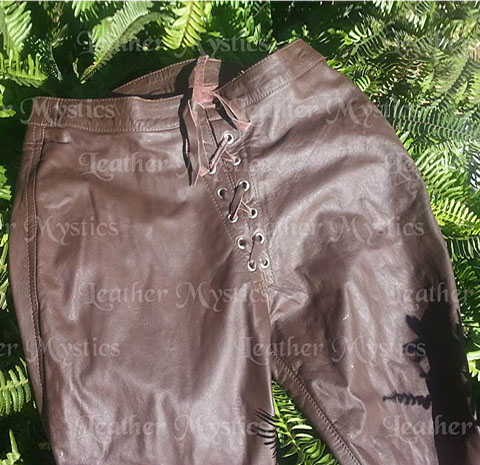 TOBACCO BROWN Long Bodice
TWO COLOR TOBACCO
& DARK BROWN Long Bodice
TWO COLOR PINK
& BLACK Long Bodice
TWO COLOR RED
& BLACK Long Bodice
TWO COLOR ORANGE
& BLACK Long Bodice
TWO COLOR PURPLE
& BLACK Long Bodice
TWO COLOR BLUE
& BLACK Long Bodice
TWO COLOR DARK BROWN
& TOBACCO Bodice