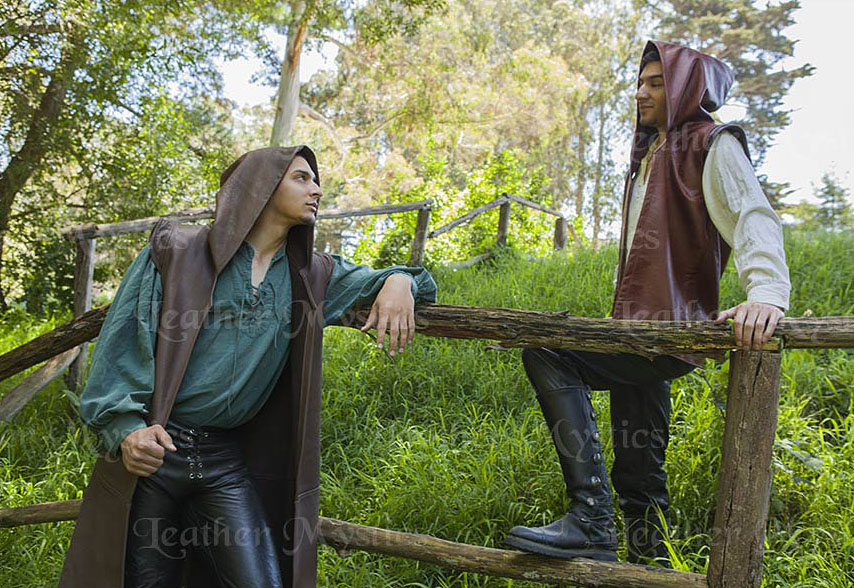 PIRATES, ROGUES & KNIGHTS
Fine hand-crafted all leather pants for every true hero, dastardly rogue, rocker, or spicy vixen!

These aren't stiff or thick like motorcycle chaps, but made with strong, butter-soft, 1.5 oz. garment leather!

Leather laced front fly enclosure with eyelet reinforcements.

These are not trashy imports or cheap 'jean-cut' leather like you'll find in most malls and outlet stores. This is the real thing! Conforming and unlined so you can enjoy the feel of quality leather caress you like a second skin from your waist to your feet ...and every inch in between!

For every man or a woman, these will get you extra attention everywhere!
Now available in larger men's and women's PLUS sizes.

Fit's Men's to a 44 waist.

The basic difference between the men's cut and women's is the women's cut has a more tapered leg. We have many women that buy the men's size because they like the looser fit and vice versa.

Yes - they are just as cool and comfortable as any other pair of pants you might wear. In fact, most find them even MORE comfortable than cotton pants. The natural leather breathes so you can stay cool even at those warmer summer events.

No other leather pants get you attention like ours do. Made from the softest leather, these pants fit like a second skin to show off your best features.

Front fly sports inner overlapping flap with re-enforcing grommets and strong wide soft leather lacing.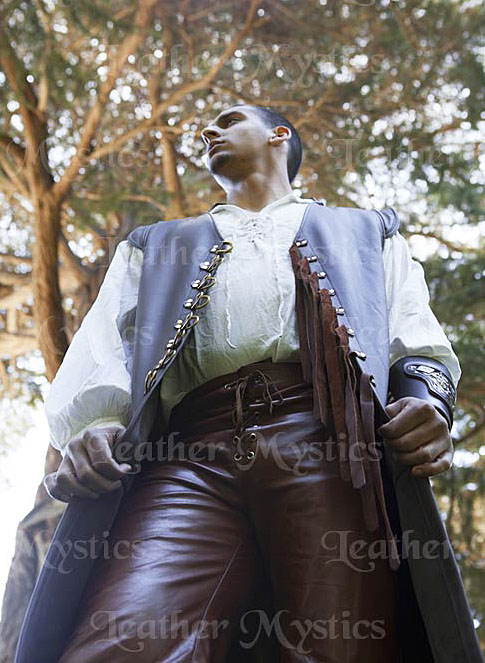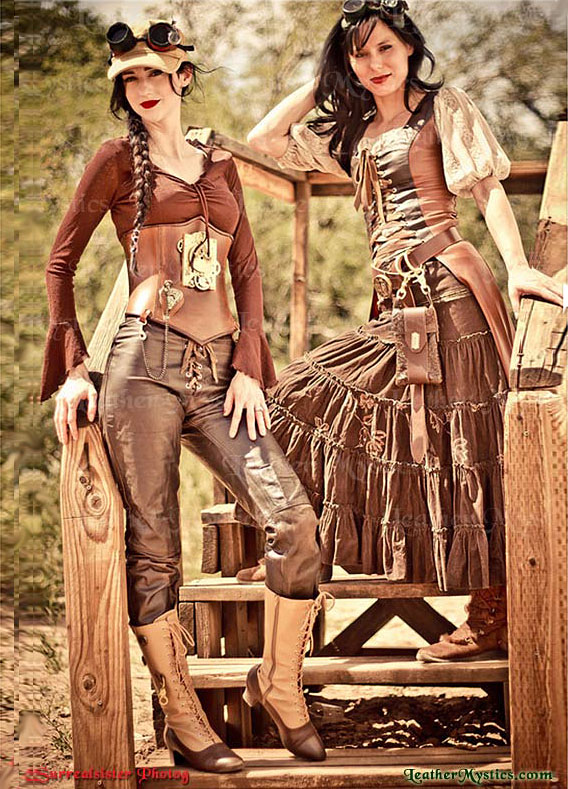 LADIES
Fine hand-crafted all leather pants for the spicy vixen, same quality, same strong, butter-soft, 1.5 oz. garment leather.

Leather laced front fly enclosure with eyelet reinforcements.

Women's up to size 18!

Now available in larger wommen's and men's PLUS sizes!

Sure to get you extra attention everywhere. You've seen major superstars like Shakira, Beyonce, Christina Aguilera, Jessica Alba, Bon Jovi, Jessica Simpson, and SO many other celebrities sporting similar styles of laced-up leather pants. Now you can get them for a FRACTION of what THEY paid!

CLEANING OUR LEATHER PANTS
Our best cleaning advice we give for these pants:
Clean only when needed or every 2-3 wearings.
Hand-wash in a sink or tub of warm water and small amount of soap (a squirt of two of liquid hand soap works best). Agitate lightly and rinse with clean warm water. Gently wring, blot with towel, and hang-dry.

*Note - ALL new leathers contain residual unset dyes which will lightly 'bleed' out in the first few washings and discolor the water. This is normal.

DARK CHOCOLATE BROWN

Dark Chocolate Brown is Available Upon Request

E-MAIL US BEFORE placing an order for brown to check our availability.

NOTE: You will be able to offer any specifics in the "comments" window of the ordering process when you check out.

We no longer offer custom length or inseam, all pants are shipped with a 36" inseam. The leather is soft enough that they can easily be hemmed on an average home machine or most tailers offer hemming for a nominal fee.

Also specify color desired (if other than black). Custom colors available (extra charges and order time will apply - email us for a quote).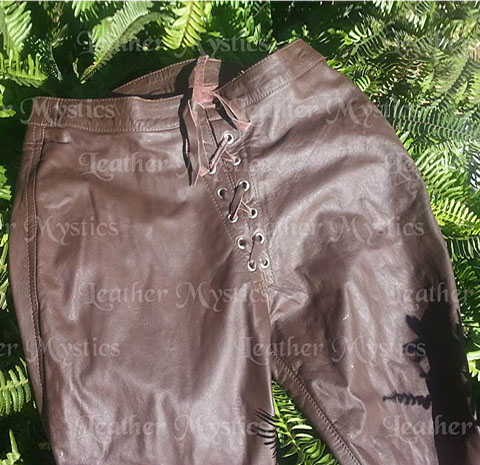 LADIES Price: $139
Select Size

MEN'S Price: $139
Select Size